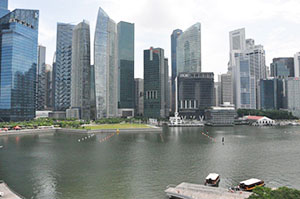 The SPLASH! Asia pool exhibition has just ended. A superb exhibition that was well organized jointly by Noémi Petit (Gl-events, France) and Melanie Robertson (Interpoint Events, Australia), the two co-organizers of the pool SPLASH! Asia 2013 event, assisted by an efficient team, with great concern for the exhibitors (see the images).
EuroSpaPoolNews was of course present as exhibitor and joint Media Partner of the Australian publisher of SPLASH! Magazine. Around 1000 copies of Le JUSTE LIEN Special Asia No. 2 special edition were distributed to visitors coming from Singapore, Malaysia, Indonesia, Thailand, Australia, New Zealand, and other countries.). The organizers will soon give us the figures concerning the attendance.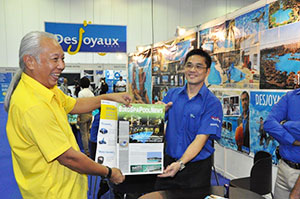 Desjoyaux Piscines need no introduction;
they have been present all over the world
for many years. Here, the Malaysian team
at the Singapore exhibition proudly shows EuroSpaPoolNews' Le JUSTE LIEN
with, on the cover, one of their creations
that won our iPool2012 contest!

This first partnership between the French and Australian organizers was really a success. The exhibition was held over 2 days in the luxurious Marina Bay Sands Convention Centre in Singapore - the most cosmopolitan Asian capital and a major commercial hub. A number of conferences and informative programmes were held during the two days.

Hailing from 11 countries and 4 continents, 65 companies exhibited their products. More than 700 visitors were expected from 25 countries. Several Europeans made the trip, including a vast German, British and Italian Pavilion. There were few French - (what is our External Trade doing to encourage us to export goods like the other European countries?!).

Even so, congratulations to Pool Technologie, Magiline, E.P.A.I., Aquazzi and Solid Pool for their participation.

The first exhibition organized solely by Interpoint Events was held in 2011. The next one in 2015 has already been announced with its now partner, GL-events.
Noémi Petit (Gl-events, France) and

Melanie Robertson (Interpoint Events, Australia)

the 2 joint-organizers of SPLASH! Asia 2013

All the charm of GL-events!

Pool Technologie, figured prominently

in exports with Maxime Guianvarch,

its Export Area Sales Manager

EuroSpaPoolNews media partner of

SPLASH! Asia Show in Singapore

Entrance hallway of the Show

Miss Nghi TRAM
of the Commercial Department of Wow Company

EuroSpaPoolNews stand

MAGILINE vaunts its origins!

Be aqua: young French contender,

Vanessa Gandolfi, with her husband Thomas

has just relocated to Singapore to promote

and equip all the hotels and clubs with

the Hydrorider bikes

Some members of the Desjoyaux Piscines Asia-Pacific

team at the Singapore exhibition, with

Paul Desjoyaux (second from the left),

grandson of the founder Jean Desjoyaux,

and son of Pierre, who have been in Asia

for several years to conquer its markets!

Rémi Frachon presenting his Solid Pool panels

Our Belgian neighbour, PROPULSION SYSTEMS,

still very much present in exports

Michel Cavagnol and his assistant Ying Lefebvre
showing their latest range of heat pumps ...
and the new Kwadoo robot

The dynamic Aquazzi team at its stand
See the main exhibitor stands in slideshow