Potential exhibitors at the Spatex 2014 trade show attended an open day on 20 March at the event's new venue, the Ricoh Arena, to see the facilities for themselves.
The tour included the purpose-built Jaguar ExhibitionHall, the dining room for the SPATA and BISHTA Awards Gala dinner (overlooking the stadium) and the on-site casino. Free wi-fi and refreshments in the exhibitors' lounge are some of the new features promised for Spatex 2014.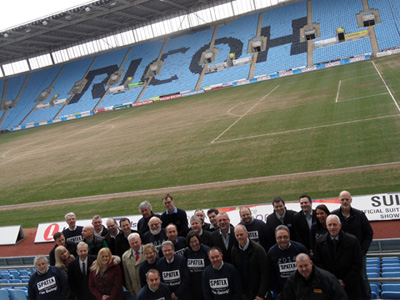 Show organiser Michele Bridle commented: "I was delighted to see the large number of people who took the time to visit Spatex's new Midlands-based venue – numbers far exceeded our expectations."
Spatex is offering an Early Bird booking rate of £164.50 per square metre (excluding VAT) for space-only stands and £199.50 per square metre (excluding VAT) for shell stands until 30 April.
Exhibitors interested in taking space at the event should contact the Spatex office on +44 (0)1264 358558 or email [email protected] Spatex 2014 will be staged from 2 to 4 February 2014.