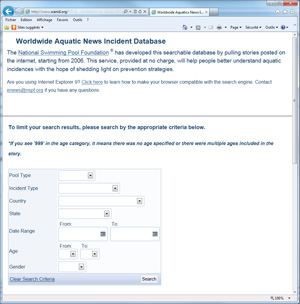 A searchable database tracking global incidents in or related to swimming pools and hot tubs has been developed by the US National Swimming Pool Foundation (NSPF).

Called the Worldwide Aquatic News Incident Database (WANID), it tracks global aquatic incidents that may result in injury, illness, and death, and also tracks aquatic-related lawsuits and pool closures.

Searchable fields include pool type, incident type, country, state, date range, age, gender and ethnicity when reported. A hyperlink to the original news report from which the data was collected and a photo associated with the story are also available. Users can pinpoint specific incidences depending on their interests.

Data collection began in May 2006 by drawing from online news reports, and currently contains about 2500 records.

Comments NSPF CEO Tom Lachocki, "We have been tracking and categorising news stories for years to help us understand the issues in our field. Understanding issues empowers us all to undertake solutions."

The NSPF provides access to the database free of charge for educational purposes.
For more information, visit www.wanid.org