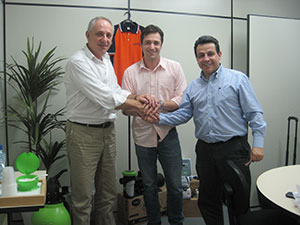 Sr. Pere Ballart (Fluidra CSA Manager)
Sr. Nicholas De Oliveira Zen (Veico Manager)
Sr. Renato Cabral (Fluidra Brasil Manager)
By acquiring Veico, Fluidra is to create its own manufacturing structure to make headway in a region experiencing strong growth. After the United States and France, Brazil is the third largest pool market in the world, with a park of approximately 1.4 million pools. The organisation of the World Football Cup and the Olympic Games in the next few years have driven the growth of the Brazilian market in the pool and water sector.


Fluidra has acquired the Brazilian company Veico to strengthen its growth in the Latin American market. The operation will provide Fluidra with its own production facility in the country and will add to the company's current commercial branch in São Paulo.

Veico is a company specialised in the manufacture of accessories for the pool sector, such as pumps, filters, LED lighting and solar heating systems. Created five years ago, Veico has undergone rapid growth and has a turnover of more than 3 million euros per year. It is located in the country's southern province of Santa Caterina, where it has a 1,500 m² production plant.

Eloi Planes, Fluidra's CEO, said: "This is an operation that we had been trying to secure for a long time an d that will enable us to expand our sales network and, above all, to have our own production plant in Brazil, which is essential to taking advantage of the opportunities in this key area for our business."

With this operation, Fluidra will join the Veico sales network, which operates throughout the country, and will add to Fluidra Brasil, a subsidiary of the Group that opened at the end of 2011 in São Paulo.

The growth currently being experienced in the country, means that the pool market is growing at double-digit rates annually, and has already reached 200 million euros. Furthermore, the water sector in Brazil is still a highly segmented market with no clear leader, in which Fluidra could become a leading player.

The company's entry into the Brazilian market is a major step in Fluidra's internationalisation strategy. Latin America is one of the company's chief points of focus with its own subsidiaries in Brazil, Chile and Mexico.

Over 77% of Fluidra's sales are made on international markets.