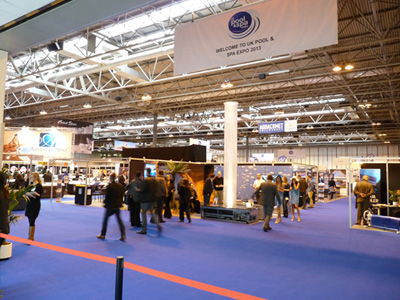 The inaugural UK Pool & Spa Expo event at the NEC has been billed as a success, according to show organisers New Events.
Speaking to Eurospapoolnews, event director Claire Saunders said that total footfall was around 1600 people across the three days of the show, with 1250 unique visitors. Of these, approximately 10% were consumers.
"We have put a lot of money into marketing," explained Claire, with channels including advertising in Ideal Home and House Beautiful magazines, Facebook campaigns, local media and collaborative advertising through the NEC.
Unfortunately for the show, the weather conspired to have an effect on attendance, with several inches of snow falling in the few days leading up to the event, and another few inches on top of this during the night following the second day. As a result, the Saturday was much quieter than hoped for: "With the weather as it was, it definitely affected us," Claire conceded.
Subjectively, the first day was quiet to begin with, but visitor numbers seemed to pick up later in the morning, with a number of exhibitors reporting "quality leads" rather than quantity. "We've spoken to several people we've never seen before," was a comment heard from several exhibitors.
The UK Pool & Spa Expo had the feel of being mainly a spa show with some pool equipment – which would have been even more pronounced had Elite Spas been able to take their sizable pitch in a key area of the show; unfortunately, the severe weather in South West England had prevented them from even getting out of their premises…
Aside from this, other observations included the fact that the show was all-too-obviously only occupying a fraction of the large hall in which the exhibition was staged (better screening would help here avoid the sense that the show was 'rattling around' in the venue). The event guide also left quite a bit to be desired – the floor plan was nearly useless, and no timings for presentations seemed to be included either, making it difficult to plan one's day.
However, overall the show got off to a convincing start, and Claire Saunders reported a good reaction from exhibitors and visitors alike: "We have had very, very good feedback from exhibitors," she said. "You can't just go to an event now for a 'jolly' – it has to be right for your business. People also came because they really wanted to spend money."
The 2014 show will be held on 20–22 February, and the organisers say stand space is already filling up fast.