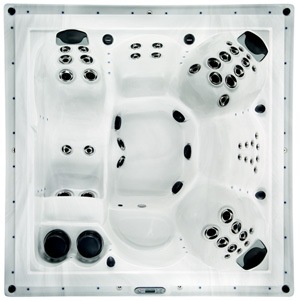 The new Urban Oasis spa by MAAX Spas is causing quite a stir in the world of luxury wellness. This is the first spa with a contemporary design that finishes with the common looks of hot tubs. Great style, sophisticated colors and proven technology are combined to create the ultimate spa experience.
Scottish businessman Andros Stakis decided the Urban Oasis spa was just the right addition to his manor house that is undergoing intensive restoration. The MAAX Spa will be positioned in a secluded area of the restored courtyard.
The spa was sold to Mr. Stakis by MAAX Spas dealer Perth Spas (www.scotlandhottubs.co.uk) and will be installed after the Brighton Spatex show.
The Urban Oasis has been designed to create a new look and compliment any modern back garden setting. With a strong focus on style and design the Urban Oasis allows for the natural elements to be included in a package which in addition to outstanding design also offers an advanced hydrotherapy system which needs to be experienced to be appreciated fully.
Available to view at the Spatex 2013 show on stand 140 Interhiva are looking to appoint Exclusive Dealers by referral, to represent this unique product and many other very special Maax Spa designs in the UK.