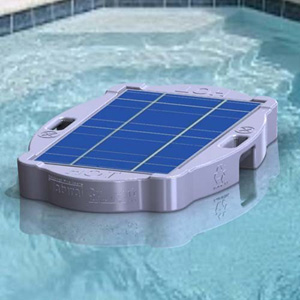 The Savior 5,000 solar-powered pump and filtration system was the winner of the Best New Product award at the recent International Pool, Spa and Patio Expo in New Orleans, USA.
Invented, designed and engineered by specialist off-grid (non-mains-powered) company National Current, the Savior 5,000 is reckoned to take approximately 15,000 pounds (6818 kg) of pollution out of the air every year and reduce your carbon footprint by taking the equivalent of three cars off the road. It has attachment options of Ozone, Ionizer, Salt Cell, UV, Aerator, Light and GPRS Smartphone control, as well as a social network information connection kit.
The Savior 5,000 pumps up to 5000 gallons of water a day through three reusable 20-micron filter cartridges, which are claimed to need only occasional cleaning, and the unit is described as "dramatically quieter" than traditional pool pump equipment and needing less maintenance than existing pool filters.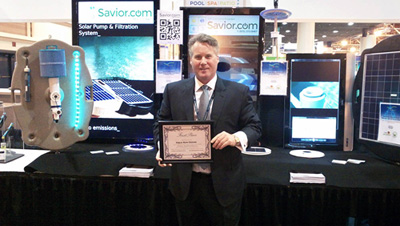 The unit is powered by a 36W 12V silicon solar panel that has a claimed life expectancy of 10–30 years, with an estimated $100 worth of maintenance required every two to three years (including replacing the pump/motor and filter).
National Current CEO and Savior 5,000 inventor Michael Evingham is pictured with the award.
For more information, view the product video on YouTube at http://youtu.be/czyxpibo4J8