A seminar at the upcoming 2012 International Pool | Spa | Patio Expo will provide attendees with the latest market intelligence on the best US pool markets.
Entitled US Pool Market Reports, the seminar will also cover the top pool builders/contractors nationally as well as in key local markets, and will also identify the consumer profile of the households most likely to own pools or install new ones.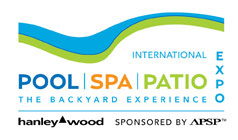 To be held on 7 November, the seminar will be presented by Jonathan Smoke, Executive Director at Hanley Wood Market Intelligence, which provides industry data for the residential new construction and residential remodelling industry segments.
Expo director Lindsay Roberts comments: "By attending this class, attendees and exhibitors will learn valuable research data collected on consumer spending habits as it relates to the multi-billion dollar pool/spa industry. Registrants will also receive a local market report valued at $300."
The 2012 Int'l Pool | Patio | Spa Expo is being held on 6–8 November at the Morial Convention Center in New Orleans, Louisiana USA.