In only its second year, India's only pool & spa expo has become the industry's show, confirming its position with an even greater international presence. The recently concluded 2nd WAVES Expo 2012 continues to expand and advance the industry, whilst helping international companies also flourish in the rapidly growing Indian market.
This year, WAVES witnessed an influx of new exhibitors and visitors from across the globe, and brought an international pool & spa certification course to India for the first time ever.

The event is being referred by exhibitors and visitors as India's first and only truly international exhibition and conference for the pool & spa industry.

Held at the new ultra modern India Expo Center, WAVES 2012 doubled the floor space of last year's event and brought together such industry leaders as Certikin, Hayward, AstralPool, Kripsol, HornerXpress, Speck Pumpen, Glong Motors, Pool Technologie and Midas, to name a few. New exhibitors looking to penetrate the lucrative Indian market were overjoyed at the potential business prospects and turnout.

"Our participation at the 2nd WAVES Expo was a first step to become a key player in the Indian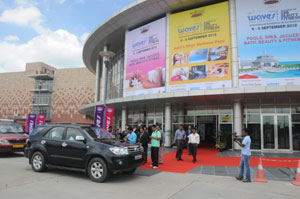 market as a manufacturer of stainless steel accessories for the swimming pool business. It was a great chance to learn further about the Indian market and to realize about the new opportunities it offers to Western manufacturers. We were pleased to meet with the most relevant distributors, pool builders and professionals of the pool business. And all this in just a 3 day long Expo!" exclaimed Oriol Bayod of Flexinox Pool.

"WAVES is India's industry show and we plan on growing and continuing to being a part of it," shared Muthu Selvam, Managing Director of Certikin India.

Sonny Sharma, CEO and Editor-in-Chief of WAVES Magazine, echoed their enthusiasm, "It's a great time to be in India and a great time for our industry. Its just the beginning, and we will continue connecting and educating the market. It is imperative that the industry, including architects and designers, come together to share ideas and innovative products."

The 2nd WAVES Expo also featured India's first Aqua-Techture Conference; an annual forum featuring India's only focused design and technical conference on bathing wellness. Designed for architects by architects, this unique conference brought together an eclectic mix of architects, designers, manufacturers and dealers in the filled to capacity hall.

In a continuing effort to elevate the industry, the 2nd WAVES Expo hosted the prestigious Certified Pool/Spa Operator (CPO) course for the first time in India. This much needed international certification, conducted by the National Swimming Pool Foundation (NSPF) of USA, brought together pool and water professionals who flew in from all across the region, including all parts of India and as far away as Dubai and Nepal, to take part in the course.
Participating at WAVES for the first time, the UK Trade & Investment (UKTI) brought companies from the UK seeking to enter the burgeoning Indian market.

This year's show also gained a plethora of support from domestic and international organizations such as the Indo-French Chamber of Commerce & Industry, Indian Spa & Wellness Business Forum, China Pool & Spa Association, UK Trade & Investment, Spa Association of India and the National Swimming Pool Foundation to name a few.

In conclusion, many milestones were made at this year's event. In addition to the massive marketing campaign, which included billboards and hoardings hoisted above the city, Live Media digital displays, radio and newspaper promotions, the 2nd WAVES Expo was also featured on the Care World TV channel!
WAVES Expo 2013 is announced from 19 to 21 September 2013