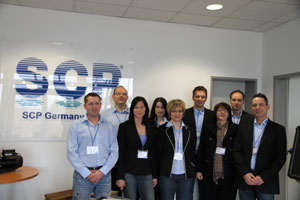 Sylvia Monfort with the SCP Germany team.
On February 24th and 25th, SCP Germany organised 2 "Open Days" in their new premises in Magdala, not far from Weimar in Germany.

During these two days, around 150 professionals were able to enjoy a glass of champagne and take a tour of the new premises, including a 1,000m² warehouse, now belonging to the subsidiary that was recently acquired from SCP Europe.

On this occasion, SCP Germany presented its new collection of spa and pool product ranges.
Targeted training courses were also organised with SCP's various suppliers and partners: UWE, Lovibond, Hayward, Pentair, Monarch, Smartpool, Nextpool, Klereo, Haogenplast…