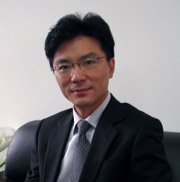 Fluidra has appointed Dr. Phil Jin as its General Manager of the Asia Division. He will have the mission to develop the business units of Fluidra and will be responsible for the operations of the companies the Group has in China, Malaysia, Singapore, Thailand, and Indonesia, recently opened.
Phil Jin is an American citizen born in China, who gained his PhD in Psycophysics at the University of Chicago, and an MBA at the University of Pittsburgh. He acquired a deep experience in various multinational companies with operations in North America, Asia Pacific and Europe. Before he joined Fluidra, Phil has been the CEO of ERA Holdings, a listed company in HK and the Group CEO of PSM International, a leading multinational company providing fastening solutions for the automotive, IT, technology and medical industry

As the General Manager for the Asian Division, Phil will report directly to Eloi Planes, the Group CEO.
Fluidra has recently opened a new structure, in Jakarta, Indonesia, in order to further develop the business in one of the continents with the highest growth potential in the world, where the company is already present in China, Malaysia, Singapore and Thailand.