Between Fira BCN and the Aquanale, SCP Europe signed the acquisition of Poolway GmbH, a distribution company located near Weimar in Germany, including even a small wall production unit for above-ground and in-ground pools.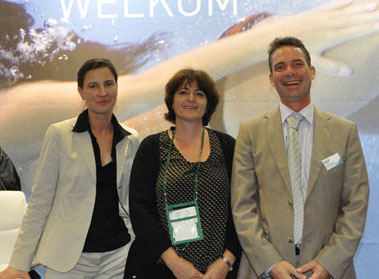 Christina WÜNSCHE, Sylvia MONFORT
and Markus RIENKS
"This decision is in line with the geographical expansion plan of SCP Europe", says Sylvia Monfort, Managing Director of SCP Europe.
"Poolway is a sound company and its management, dealing in the distribution of pool materials and equipment for over ten years, is very professional and dynamic. From the 1st of November 2011, SCP Germany will be able to build great synergy with SCP Benelux, and is a perfect bridgehead for our expansion in Eastern Europe, given its proximity to the Czech Republic and Poland".


"We are delighted to join the big family of SCP Europe", says Markus Rienks, founder of Poolway and the new director of SCP Germany. He adds "We believe that with the wide range available to us we can carve out a significant place in the German market".

The newly born SCP Germany GmbH is currently showing a selection of its product range at the Aquanale, such as Hayward, Pentair, Proflex, also products it manufactures, and its wide range of robot cleaners.