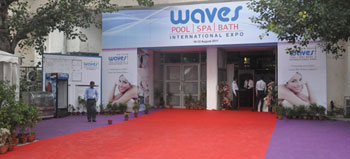 The Indias first Ever Pool, Spa & Bath Show, held in New Delhi August 10-12, 2011 has been hailed a great success by visitors, delegates and exhibitors. India's first ever event focusing on swimming pools, spas and luxury bathroom products has helped establish critical industry ties throughout Pan-India and the world, including Australia, USA, Germany, France, Spain, the Middle East and many more.
Held at Pragati Maidan in New Delhi over three days in August, the event attracted 42 exhibitors representing countries such as Australia, USA, Germany, France, Spain, UK, UAE, and of course India. The event was considered by CEOs and Directors as India's first and only branded annual exhibition that successfully unites dealers, architects, builders, and private customers and addresses the opportunities and trends of the Indian "Home and Wet Wellness" industry.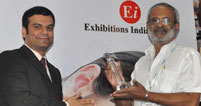 Sonny Sharma - CEO and Editor of WAVES MAgazine gives Abe Abraham, CEO of Astral India, an award
Sonny Sharma, CEO and Editor of WAVES Magazine echoed their enthusiasm, "The goal of the event was to create a platform for our industry and I believe we achieved that. The wet wellness sector of India is a burgeoning industry in its infancy and we hope to continue connecting and educating the market."
Exhibitors were delighted with the results of the first show and especially with the quality of attendees, looking forward to exhibiting at next edition.
Visitors and delegates expressed their enthusiasm about the quality of products displayed, demos, and were particularly impressed by the seminar speakers. Exhibitors confirmed that the visitor numbers were excellent and of top quality, and some even sold their products directly to end users.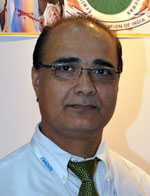 Rajesh Sharma founder and president of Spa Association of India
Prem Bhel, Chairman of Exhibitions India Group, says that the recognition of the booming Indian wet wellness market was the reason for the launch and that companies are already booking stalls for next year's event.

"We couldn't have asked for a better launch, exhibitors were happy, visitors were ecstatic, and the conference delegates came away with valuable knowledge and industry insight; in all everybody was pleased. Furthermore, we have already begun planning 2012's event as several companies have pre-booked and we are projecting a 300% growth."
WAVES International Exhibition & Conference 2011 was sponsored by AstralPool. Abe Abraham, CEO of Astral India says that the show definitely exceeded his expectations.
Powerful seminars and workshops were performed by industry titans representing such companies as AstralPool, Spa World, AquaCal Heat Pumps, Hayward Pool Products, Suncast Solar, Zodiac, and Waterco.
PROCOPI and SpaFrance stand

welcomed many visitors

Slide-show of the exhibition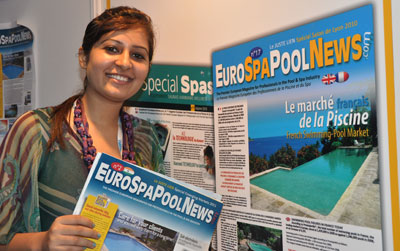 Exhibitor and partner of the show EuroSpaPoolNews had made ​​for the occasion its first LE JUSTE LIEN magazine. Printed in Delhi it has been distributed to over 1000 copies to all exhibitors and visitors by its ravishing host Aanchal.