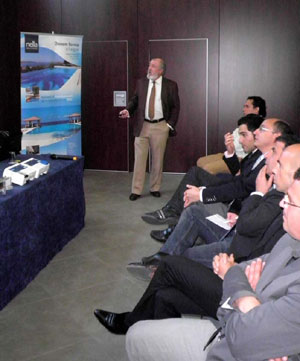 Presentation of RENOLIT
ALKORPLAN 2000 and 3000 membranes
On 28th March the firm NELLA POOL & DREAMS, an approved installer of RENOLIT ALKORPLAN sheeting, organised, with logistical support from the Girona hotel federation, an event which was attended by hotel and camp-site managers and heads of maintenance at different municipal sports facilities in this Catalan province which is so popular as a holiday destination.
The event set out to show the reduction in maintenance costs on pools waterproofed and decorated with RENOLIT ALKORPLAN 2000 or 3000 reinforced membrane.

During the event the vice-president of the Girona provincial authority, Narcís Casassa i Font, spoke and mentioned the positive experience and good results of using reinforced sheeting to renovate a public swimming pool in the city of Girona.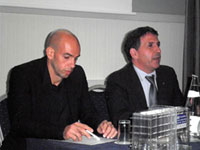 Daniel Ballart i Sans (left)
and Narcís Casassa i Font

Also present was Daniel Ballart i Sans, Olympic and world water polo champion, who recalled the good impression received by the whole of the Spanish team when they first got into the Atlanta pool, where they won Olympic gold; they continue to enjoy the same standard of pool at the Club Natació Barcelona, as waterproofing is assured in both pools by a lining of RENOLIT ALKORPLAN.

The product was presented on behalf of the manufacturer, RENOLIT Ibérica, S.A., by Rafael Busom Fabregat, swimming pool sales manager in Spain, who stressed the advantages in terms of guaranteed water-tightness and savings on maintenance of the RENOLIT ALKORPLAN 2000 and 3000 system of reinforced membrane, in comparison to other more traditional solutions in Spain.

At the end, all those present at the event were able to exchange impressions and discuss queries at a pleasant aperitif laid on at the Ultónia hotel in Girona.