Devon-based spa dealer Escape Leisure has moved to a new site at the Trelawney Garden Centre just outside Barnstaple to protect its business, following the arrival of a new superstore very close to the company's previous in-town location.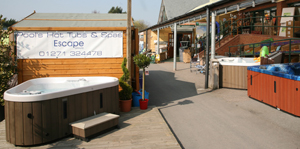 Managing director Chris Draper comments: "Although the arrival of the superstore seemingly offered greater opportunities for passing trade, it actually reduced visitor numbers, with most shoppers driving past the showroom in their cars. We now have somewhere more prominent, and benefit from Trelawney's top quality customers as they walk around the garden centre browsing. We sold three units in the first three weeks after moving here, as well as carrying out numerous site surveys."

Now occupying an 80m² site at the Trelawney Garden Centre in nearby Ashford, Escape Leisure initially started with three Marquis Spas hot tubs on show, two of which are fully operational; a new 2011 'Wish' model, finished in black, has just been added to the display. The showroom also stocks a full range of accessories and water treatment products for hot tubs and swimming pools.

The company is currently operating out of wooden cabins adjacent to the display area, but Chris Draper already has expansion plans for his new site: "Within the next 12 months, I would like to develop a purpose-built internal retail unit similar to the other outlets on site, to include sauna cabins and steam rooms, along with additional hot tubs including an external 'working' showroom."

As well as supplying hot tubs, Escape Leisure offers a full turnkey package, carrying out full site surveys to establish which model would best suit the needs of the customer, in addition to installation and after-sales advice and support.

Escape Leisure is one of a network of dealers offering the entire Marquis Spas range of hot tubs, available exclusively throughout the UK from Golden Coast.