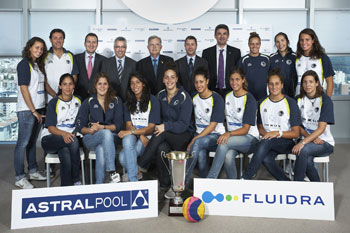 European water polo champions
surrounded by FLUIDRAs managers
Fluidra celebrated the win of the Women's Water Polo Championship on 23 April with the players from Sabadell Swimming Club. The team sponsored by AstralPool through Fluidra España made history in the competition as the first Spanish club to win the European title.
At the ceremony, held in Fluidra's headquarters in Sabadell, the European water polo champions were congratulated by the company's senior management. In the words of Jaume Carol, Fluidra's COO, "it is an honour for the name of AstralPool to be associated with that of Sabadell Swimming Club, now ranked highest in women's European water polo competitions. The close relationship Fluidra enjoys with the club makes us feel like we played a part in winning this title."
Carles Ruiz, president of the Sabadell Swimming Club, said that "the success of our team is an example of a job well done and is a just reward for the efforts made by a group of players committed to the club who are managed by an excellent team of coaches. We are grateful to AstralPool for the support given to us over the years."
The players and the team of coaches were presented with a memento of their triumph at the ceremony.
A ten-year partnership

The collaboration between Sabadell Swimming Club and AstralPool, leaders in the world of swimming and pools respectively, goes back to over a decade ago. In the last few years, the facilities at Sabadell Swimming Club have been chosen by AstralPool to install and try out the latest advances and innovations in the world of the swimming pool.
Last year, the club opened Can Llong, a new set of water sports facilities that include a new outdoor Olympic swimming pool with a movable bottom and bulkhead designed by the Fluidra group through its AstralPool brand name. This building development forms part of the CARPE project, which the club put in place with the aim of achieving sporting excellence at the very highest levels.