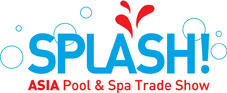 SPLASH! Asia will make its debut in Singapore and will be held from 4th-5th May 2011.
"
We are very excited by the launch of the event",
said
Interpoint Director, Simon Coope
r "
The Asian market has been steadily developing over the past few years, particularly in the commercial leisure sector. We see this event as an opportunity for Australian and New Zealand companies to research the Asian market and find distributors. With the European market flat due to the GFC and the Middle East also not expanding as quickly as predicted, the market in Asia presents some exciting new opportunities. Our Gold Coast event has steadily seen an increase in visitors from South East Asia and we see this as a timely opportunity for industry
".
"
SPLASH Asia in Singapore sounds like a great opportunity to support the industry in an area that really has no focused trade event. Our partners in this strategic region have been clamouring for an event of this kind in their backyard. I am certain that we would draw from as far north as Japan, west as India, east as Philippines and possibly further – Malaysia and Indonesia would participate out of convenience of course. We are looking forward to participating and welcome the event,
"
Hugh D. Smith, Director Pool Group Asia Pacific, Pentair Water Pool & Spa.
SPLASH! Asia is expected to attract 40-50 exhibitors and around 800 -1000 attendees. One of the key draw cards will be the popular educational seminar program and
Interpoint
will bring international speakers from America and Australia.
(Press release)