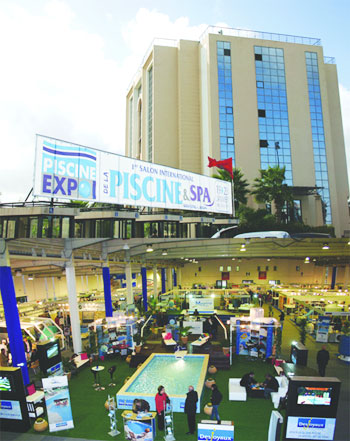 After the success of its launch, the "Piscine Expo Maroc" Show is back for its second edition, which will open for 24-27 February 2011, in Casablanca. The first one in Morocco, in Africa and in the Arabic world, «Piscine Expo Maroc» confirms prematurely its status of elite show in Africa.
For the director of the exhibition,
Kamal LWED of KLK Media
: "
the majority of the participants of the first edition have already booked their stand.
" The show is planned on a global surface of at least 5 000 covered square meters and waits for approximately 10 000 visitors, exclusively professionals and particulars ones. This show is at the same time a professional and a commercial platform which aims at positioning as a federative event and a shop window of the industry of the swimming pool and the wellness
It settled the ambitions:
► to strengthen the dynamics of the sector,
► to manage the synergy of the operators of the targeted sectors,
► to make this event a major pole,
► to value the Moroccan offer
► and to make sensitive the professionals and the consumers on the sustainable development and the economy of the water.
Eurospapoolnews is proud to be partner of this show.