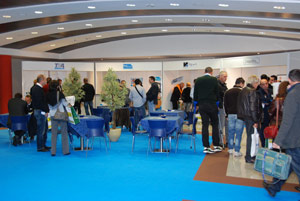 POOLDAY 2010, which took place on October 28 and 29 in the splendid setting of the Parc Hotel Paradiso & Golf Resort at Pescheria del Garda
, brought together more than 200 professionals from the pool and spa market, plus builders, resellers, and producers from all regions of Italy.
Hosted by
Giovanni LONATI
,
Director of the POOL commercial division of A&T Europe
, the Meeting and Expo opened with the exhibition phase, attended by the company's major suppliers, including STEIEL, CHIMIGIEN, RENOLIT, T&A, POOL TECHNOLOGIE HAYWARD, DAB and our trade journal EUROSPAPOOLNEWS.
This was an opportunity for all attendees to explain the technical sales aspects of the POOL portfolio and its suppliers' products in greater depth
.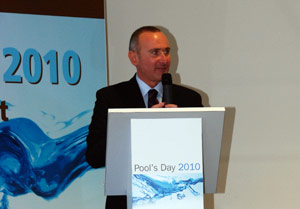 The event then went on to the meeting phase; after an introduction by
Giovanni LONATI, Roberto COLLETTO, CEO of A&T Europe SpA
thanked the many participants for their attendance and gave an overview of the pool market in Italy and Group results for 2010.
M. Spurgin
(Pool Technologie) then explained the Pool Salt control system, F. Zardo (Renolit) gave a presentation of non-slip lining categories,
M. Negrinotti
(Steiel) explained the benefits of disinfecting using UV rays and
D. Accensi
(Hayward) spoke about the new Sharkvac XL cleaner.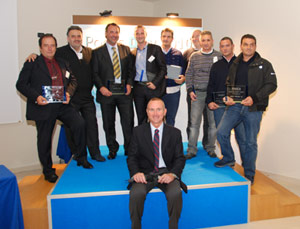 The meeting phase closed with presentations by
F. ULPAT
(T&A) and G. Ghiotto (DAB), who presented AquaGuard safety covers and the new Euroswim pump.
Finally,
Giovanni LONATI
and his team awarded prizes to the best customers of 2010;1st prize went to LINEA PISCINE srl of Giugliano in Campania (Na), 2nd prize went to TECNO PISCINE srl of Salerno, and 3rd prize to Alessio Pettazzoni's DITTA PETTAZZONI PISCINE of Rome.
Whoever said that hardly any pools are sold in the Center South?