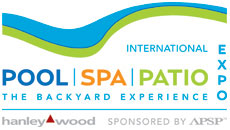 Industry professionals recently packed the Bayside Halls at the Mandalay Bay Convention Center in Las Vegas, Nevada for the 2010 International Pool | Spa | Patio Expo, validating the annual event as the industry's most trusted source for leading-edge products, education and networking. Gold medalist Michael Phelps
conducted the official ribbon-cutting duties to open the show which ran November 3-5, with the educational conference being held October 31- November 5, 2010. Phelps then spent two hours in the Master Spas booth signing autographs, visiting with attendees and promoting his new signature line of swim spas by Master Spas.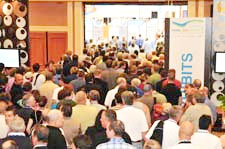 Total attendance was, 255, a 1.5% increase over the 2009 show. Attendees included pool/spa builders/installers, retailers, service companies, landscape architects/design agencies and manufacturers.
"
We are very pleased with the number of attendees and with the enthusiasm they brought to the buying and selling activity on the show floor
," said Lindsay Roberts, Director of the Expo. "
Exhibitors enjoyed the steady traffic as they introduced hundreds of new and innovative products to high-calibre decision-makers.
"
In attendance were representatives from the industry's leading retailers and pool builders, including Leslie's Poolmart, Blue Haven Pools & Spas, Anthony & Sylvan Pools, Dolphin Pool Supply and Service, Essig Pool, Shasta Pools, The Pool Doctor, Backyards of America, Geremia Pools, Cameo Pools, Mission Valley Pools & Spas, Paddock Pools, Munie Leisure Center, Pinch-A-Penny, and Watson's of Cincinnati.
Attendees represented all 50 states, with the largest number from California, Texas, Arizona, Nevada, Indiana, Florida, Illinois, New York, Ohio and Georgia. The largest number of international attendees came from Canada, Mexico, Australia, United Kingdom, Switzerland, Brazil, France, Japan, China, Israel, Peru and Belgium.
Exhibit Hall
With 1,225 booths and 459 exhibiting companies, the show floor was packed with a wide variety of pools, spas, hot tubs, water features, casual furniture, pumps and heaters, lighting, landscape décor, hearth, grills and much more.
With 122,500 net square feet of exhibit space, the show floor was up 12% over 2009. The number of exhibiting companies was up 5% over last year, including 110 first-time exhibitors.
Returning to the show were several key manufacturers who have not exhibited in several years, including Hayward Pool Products, Astral Pool Products, Marathon Electric, Anhui Saunaking Co., A&A Manufacturing, Paramount Pool & Spa Systems, Sunrise Spas and Caldera Spas.
Exhibitors were pleased with the number of leads and inquiries that were generated.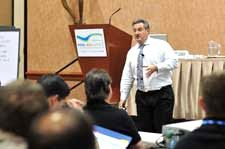 Educational Conference
In addition to the show floor's buying and selling activity, the show's conference program addressed a myriad of industry issues through 74 seminars designed especially for residential and commercial builders/contractors, retailers, service companies and landscape architects/designers.
Each targeting a specific niche, a series of four one-hour Power Panels were held simultaneously prior to the opening of the show on November 3, providing thought-provoking, spirited discussions with panellists sharing their opinions and recommendations on what they are doing to ensure business success.
In addition to the show's core educational program, advanced, pre-show educational programs were offered for pool/spa builders/designers and service company professionals through the APSP Builders Institute, APSP Technical Service Institute, the Genesis 3 Elements of Construction School and the Genesis 3 Design Schools.
Show Floor Highlights and Special Events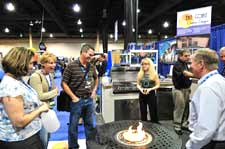 The
APSP Live Workshops
taught attendees how to use, sell and install the latest pool and spa equipment, materials and techniques through a series of nine sessions held over three days. Sponsored by the APSP Builders Council and Service Council, workshop topics included control panels, drive pumps, internet technologies, wave detection alarms, jet installation and hydraulics, electrolytic chlorine generators, salt chlorine generator systems, variable speed pumps, as well as a shotcrete demonstration.
Held outdoors, the new
Party on the Patio Pavilion
offered attendees a collection of the latest patiorelated products and accessories from 19 participating companies. Sponsored by East Coast Outdoor Designs, the pavilion featured a beer garden and grilled food samples prepared on barbecue grills, as well as a live performance by Tropical Music International.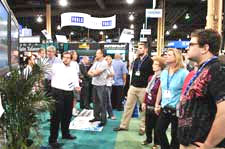 The
VGB Pavilion
once again provided attendees with VGB Safety Act-related products and services. Sponsored by Pentair Water Pool and Spa and Waterway Plastics, the pavilion featured nine table displays and a series of 12 vendor demonstrations held over the first two days of the show.
Once again the
Product Showcase
, sponsored by AQUASALT, offered the hottest industry trends and the latest new, cool and green products. From a selection of 72 products, a panel of industry experts awarded Fusion Pool Products with the "Best New Product" for its Smart LED Lite G-4 auto-fill system. The panellists also awarded Natural Current with "Best Green Product" for its Savior solar pump and filtration system.
The
Backyard Living Pavilion
featured 48 companies in 93 booths occupying 9,300 square feet of booths filled with dynamic products, resources and information from every segment of the backyard living industry.
Targeting builders and designers, the
Genesis 3 Pavilion
featured hundreds of products and services from 30 companies in 58 booths occupying 5,800 square feet of exhibit space on the show floor.
Always a popular special event, the opening night
Welcome Party
was held at Haze Nightclub at the Aria Hotel, attracting 1,000+ participants. Sponsored by Strong Pools and Spas, the large layout provided the perfect venue for attendees and exhibitors to network while enjoying complimentary drinks and hors d'oeuvres.
Save the Date for 2011 The 2011 International Pool | Spa | Patio Expo will be held November 2-4 in the Bayside Halls at the Mandalay Bay Convention Center in Las Vegas, Nevada USA. The educational conference will be held October 30 - November 4. Housing will open in April and online registration will open in late June.



Press Release – December 1, 2010 - All photos credit : "2010 Pool | Spa | Patio Expo."