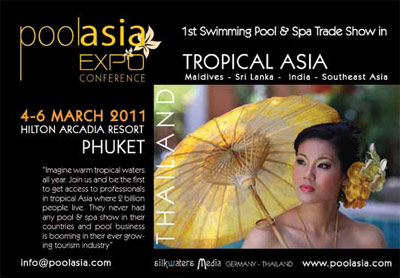 The PoolAsia Expo 2011 is the first Swimming Pool & Spa Trade Show & Conference in tropical Asia, comprising:
Thailand, Vietnam, Singapore, Brunei, Laos, Cambodia, Myanmar, Philippines, Malaysia, Indonesia, Sri Lanka, Maldives and India.
Thailand's most luxurious island Phuket will host the show from March 4-6 at the islands biggest resort, the Hilton Arcadia Resort & Spa located at the Karon Beach.
The focus will be on manufacturers, retailers, pool builders & services, contractors, architects, landscapers and developers.
The show is strongly knowledge driven with the first International Awareness Congress on "Tourism & Healthy Water" where the Ministries of Sports, Tourism, Environment, Education & Health as well as Hotel Associations and City Councils throughout the region will be invited to attend.
The latest European design trends and technology highlights will be presented at the Spaforum, as well insights provided on Spa design and doing Spa business in Asia.