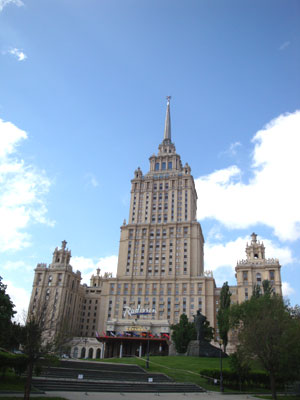 Myrtha has installed a 50 x 11.5m Myrtha Technology ceramic infinity edge pool, in the "Royal Club" fitness centre with a depth ranging from 1.2 to 1.8m and 6 lanes; the pool has been completely clad in ceramic tiles and the infinity edge grill is in wood.
The legendary Hotel Ukraina, now the
Radisson Royal Hotel
, was built in Moscow between 1949 and 1955 from the plans drawn up by the Architecture Studio of the Ministry of Construction of the former Soviet Union. It immediately became a part of the architectural history of Moscow, constructed in the Soviet canonic style. From its opening in 1957 it was considered the grandest Soviet Hotel and the largest European Hotel.
Today the building,
standing 206 metres high with 34 floors and 3 basement floors,
rises along a picturesque shore of the Moscova River. From the upper floors of this splendid building one can enjoy a stunning panorama of central Moscow: the White House of Parliament and Novy Arbat, the avenue that leads to the foot of the Kremlin. It is about a 10-minute walk to the closest metro station, "Kievskaya", and 30 minutes by car to the international airport.
It boasts
more than a thousand comfortable rooms, suites, conference rooms, and banquet halls.
The Hotel features several restaurants, a fitness centre with pool and sauna, a trendy disco club, coffee house and boutiques,
while offering its guests the best in the way of convenience, security, and a range of services able to make guests' stay in Moscow safe, pleasurable and easy. The Hotel's attention to ecology is another interesting feature. With a rich tradition of hospitality the Hotel Ukraina has also won many awards such as the "
The Best Hotel in Moscow" for 4-star hotels
in its category. Not only tourists and business people but also important sports teams stay there when visiting Moscow.