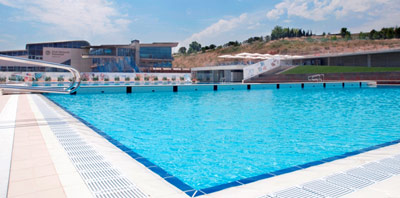 The CNS has opened the new Can Llong outdoor swimming facilities to the public. It includes a new outdoor Olympic pool with a moving bottom and wall built by the Fluidra group, through AstralPool, a leading brand name in the pool sector.The newly built facility pool forms part of the CARPE project that the Sabadell-based club
has promoted in order to attain the best possible sporting performances. The outdoor swimming facilities in which the pool is found was built at a cost of 5.8 million euros. It is the star feature of the second stage in the building work on the facilities that the CNS has commissioned in the Can Llong neighbourhood of Sabadell and that will cost a total of 18 million euros.
The Olympic pool of the
CNS
is the result of a strategic agreement signed in September 2007 with
Fluidra
, the multinational group based in Sabadell, which is dedicated to the development of sustainable applications for the use of water.
The pool in the new Can Llong swimming facility was built by the Spanish subsidiary of Fluidra, Fluidra España, and was completely equipped using components by the AstralPool brand, from the hydraulic equipment to the competition and lifesaving materials.
Features of the poolThe moving bottom consists of a platform
, a pioneer in the whole of Spain, which is 25 m long and 12 m wide and is submerged on the pool bottom. The platform moves upwards, which makes it possible to change the depth of the pool. This means it is able to go from 2 m in depth to 0, thus enabling people to walk on it directly. This mobility makes the pool highly versatile, at it makes it possible to carry out all kinds of activities in which it its essential to be able to stand in the water.
The pool also has a moving wall,
whose function is to divide the space in two. This wall is supported by rails on which it can automatically move to the right or to the left. Thanks to this, the pool is a multipurpose facility in which several activities can be carried out at the same time.