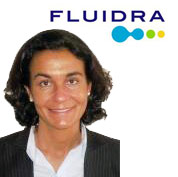 Fluidra, multinational company specialised in the development of applications for the sustainable use of water, appointed Carme Vallhonesta as its new Marketing Manager for the Pool/Wellness business unit in its South Western Europe Division.
The company has thereby selected Mrs Vallhonesta to fulfill a position of paramount importance; her role aims to boost the company's brand image in the highly competitive South Western European market and in one of its star business divisions. Carme Vallhonesta is a specialist in the management of the complex processes of expansion and growth, a vital aspect as one of the company's strategic pillars is to boost its internationalization.
Carme Vallhonesta, originally from Barcelona, is a Bachelor of Business Management and Administration and graduated from ESADE business school, where she also earned a Masters qualification in Business Management in 1998. In the same year, she embarked on her professional career, beginning as an external advisor for company Kemira Chemicals. After being Product Manager for Henkel Ibérica (local marketing), Henkel KG (international marketing) and Loto Catalunya, she relocated to the B.Braun business, where she occupied the post of International Product Manager for seven years. Before joining Fluidra, Vallhonesta was the Strategic Marketing Manager for Indiba Medical Technology.
Carme Vallhonesta is replacing Marc Pérez, who is now occupying the position of Fluidra España's Manager of Commercial and Marketing affairs.
Fluidra operates in 32 countries by way of about 150 branches and has several production centres located in the main markets. Fluidra products are distributed to more than 170 countries due to an extensive sales network. The group has some 3,300 employees.