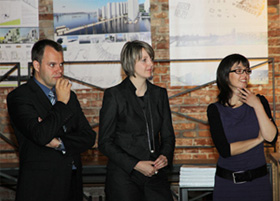 Ing. Jan Kadlec and Ing. Kateřina Kadlecová – USSPA, Ing. Petra Kalendová – Somfy

The ceremony of the students' competition winners' announcement joined at the varnishing day took place on 24 May, 2010. The theme was the architecture students' point of view on the living matters.
The unique space of the
Wines Home building in Prague
emphasized exceptional atmosphere of the architecture spirit. The members of jury personally introduced and commented the work of all 20 finalists. The jury had to choose among 131 received works, which means high interest for the future architects and also a great success for the first year of the competition.
USSPA
became one of the two official partners. "
It is a natural connection for us
," explains
Ing. Kateřina Kadlecová
, co-owner and marketing manager, and she continues: "
We ourselves cooperate with prominent architects and designers on our projects. We know very well that a harmony between aesthetics and useful functions is not easy and in the field of architecture it is even not well appreciated socially yet. That is why it was a pleasure for us to support the competition.
"
The biggest word of thanks belongs honestly to Ing. arch.
Věra Konečná
who set up the competition, prepared it and organized it all. Moreover she managed
to gather the prominent Czech architects
who joined the jury and thus accented the high level of the competition.
Petra Krobotová
, student of
FSV ČVUT Prague / Erasmus
, Gotebord, Sweden, was declared absolute winner with her project "
Norra Guldheden, low-cost living
". USSPA congratulates all honored students and wishes a lot of energy, inspiration and success to all participants.
The exhibition of the students' works takes place in the Wines Home until 20 June, 2010.
| | |
| --- | --- |
| | |
| The 1 prize – Petra Krobotová / Norra Guldheden, low-cost living | The 2 prize – Tereza Naarová / Intensive low floor build-up Plzeň |