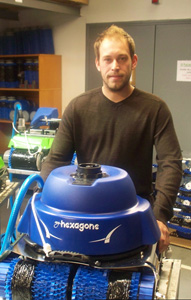 Brad Attwood, Manager
Hexagone, based in Argenteuil, a leader in the French market for professional robot vacuum cleaners, is pleased to announce the opening of its fourth subsidiary in Europe.


After Spain, Switzerland and Germany, Hexagone has opened its subsidiary,
in England, at Eastbourne, Sussex since 6 April 2010.


Its strategy for expanding its exports and the steady growth of its sales have enabled Hexagone to export its know-how and expertise in the cleaning of public and community pools and to implement its unique and exclusive after-sales service on site.
The
new manager, Mr. Brad Attwood
, who was formerly with Plastica as Product Manager, took over on 12th April.
The previous distributor of Hexagone in England, Plastica, will also continue its close cooperation with France.