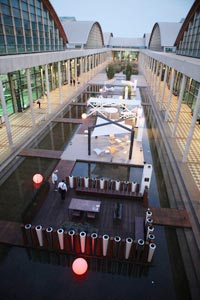 RiminiFiera: the huge international exhibiting platform dedicated to outdoor products and sun-shadings closed on Saturday, October 10 sending a very strong message of recovery to the attending institutions, companies, operators, associations, and media.


Milan, October 12, 2009
–
SUN
, the 27th International Exhibition of outdoor products, GIOSUN, the 24th International Exhibition of toys and outdoor games, and
T&T-Tende e Tecnica
, the 5th international biennial exhibition of sun-protection systems, closed on Saturday, October 10, with
excellent attendance figures
, a
highly qualified public
and, particularly, conveying a c
lear, sharp, and precise idea
that a great
economic recovery
is possible.
The stands, the conventions, and the exhibiting events highlighted
great optimism and enthusiasm
for what most exhibitors and operators referred to as the
crossroads events
, where orders were signed and new and old customers were met. While most exhibitors have already confirmed their intention to return, some of them with larger exhibiting surfaces, new potential participants have asked the secretaries for cost estimates for the next edition.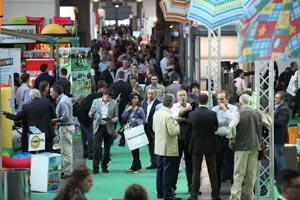 A tangible excitement, clearly expressed by the figures:35,000 visitors, 60 accredited Italian magazines, 38 foreign ones.
In just 3 days (Sunday excluded), SUN equalled the record number of 24,000 visitors in 4 days (Sunday included) in 2008, with 24,112 visitors. The organizers stress the g
rowing qualification of the operators
, which is a result of a codified system of ad hoc invitations. In this respect, an
8%
increase of professional figures from the reference markets was recorded.
T&T-Tende e Tecnica,
which lasted 4 days like the previous edition (2007), recorded a
17% increase in the number of visitors
(10,758 accredited operators attending), including a 4% increase of foreign ones.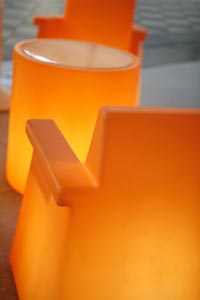 All the distribution and sale channels
confirmed their interest through the attendance of operators from all major brands of l
arge-scale distribution and specialized buying groups
. Moreover, as far as international markets are concerned, the organizers arranged hundreds of business meetings in the stands with selected buyers from
France, Germany, Spain, Switzerland, Morocco, Croatia, Montenegro, and Slovenia.
These official delegations that visited the halls in co-operation with organizations and institutions –including the Italian Chambers of Commerce abroad – were joined by independent representative groups from
58 countries.
Sun, open air, fun, urban furnishing, bathing outfits, well-being equipment, furnishing systems for the private and contract sector, outdoor equipment, as well as sun-shadings, curtains, and covers promptly turned into
business
in Rimini. The 27th edition of the International Exhibition confirmed the strategic role of the Outdoor sector in the national tourist and production economy, and T&T stressed the strong energetic – as well as aesthetic – value of sun-protections and of the entire related pipeline.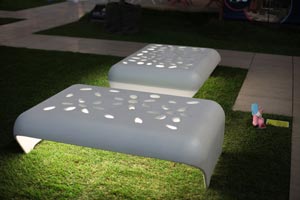 In short, this edition –
developing over 16 halls, with a total 120,000 sq. m. surface and about 1,000 exhibitors
– boasted a high economic value and evidenced a close focus on the environment by a sector that is getting closer and closer to the world of research and design, as confirmed by the numerous shows and conventions organized in co-operation with universities and national or international institutions.
A crossroads for meetings and confrontations, which attracted once again operators from all over the world to Rimini.
The crisis was an effective vehicle to bring all the potentials of the outdoor economy to the surface – a universe of products and technologies dedicated to provide comfort, sharing, entertainment, well-being, and aesthetic pleasure to those that spend time in the open and want to stay in the open also indoors, or just outside, sheltered from the sun and weather agents.
During the Fair, it turned out that the
economic recovery of the Country
must be founded on and achieved through the excellence and variety of services and products, and that the challenge of cutting energy consumptions passes through urban style and the passive air-conditioning of buildings.
It turned out that curtains and sun-protection systems perform an integrated function, which includes aesthetics and the micro-climatic regulation of buildings, contributing to a significant extent (sometimes above 50%) to the reduction of cooling consumptions.
New low-consumption technologies for outdoor lighting have by now been integrated into urban furnishing and dehors ambiances – and play an outstanding role at SUN in a unique event in the international exhibiting landscape. Moreover, the present production system sees a broad expansion of the use of recycled and environment-friendly materials.
This means that top comfort, safety, and choices should be offered to a
market
that showed, once again, its willingness to
invest in quality.
A look at the thousands of new products and endless ranges of solutions for outdoor furnishing, playing, sports, bathing equipment, wellness, urban furnishing, suggestions for the entire hospitality pipeline, shadings, and sun-protection systems presented by the thousand exhibitors at SUN and T&T promptly showed that this challenge can be successfully met.


Press release