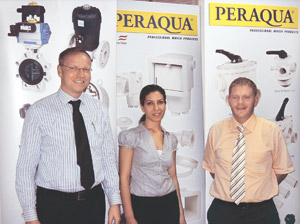 During the last 15 years
Praher/Peraqua
has been very successful on the Middle East market. To offer better delivery service and technical support to its clients,
the company opened a new office in Sharjah (Dubai) in March 2009.
Many well known projects have been equipped with PVC high quality valves, automatic valves, pipes and fittings from Praher in the last years.
The projects were: The Palm, World, Burj Al Arab, Twin Towers and others. Taking this strategic step will strengthen the company's leading role in the Middle East.