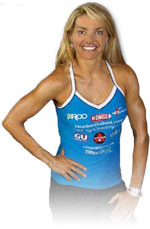 Heather GOLLNICK

Premium Leisure LLC, today announced it has reached an agreement with 5-time Ironman champion Heather GOLLNICK to be the spokeswoman for its new swim spa, the Swimmer's Edge 18, as well as new swim spas that she will help design. In addition, Premium Leisure will be the exclusive, official swim spa manufacturer for GOLLNICK's new Revolution3 Triathlon series.
The relationship between Premium Leisure and
GOLLNICK
commenced June 7 in Midddlebury, CT at the inaugural Rev3 Triathlon.
GOLLNICK
, and husband Todd who is the race director, staged the half ironman race that featured more than 500 athletes, including male and female winners Matty Reed and Mirinda Carfrae.
During the Rev3 launch, dozens of people swam against the 7.5 HP, variable-speed, hydraulic-driven turbine. Children, high school athletes, baby boomers, seniors and triathletes – such as 6-time World Champion, Natascha
BADMANN
– all tested the industry's widest and deepest swim spa current.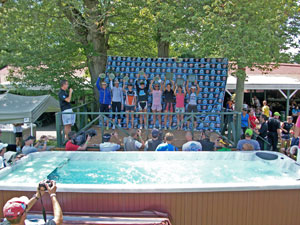 Rev3 triathlon female winners
Premium Leisure President Brian
WILEY
said "
the signing of GOLLNICK will help educate consumers about the benefits of the Swimmer's Edge 18 swim spa. Heather is a champion on the course and a champion at home with Todd and their three children. She wants to change the world of triathlon for the better like Premium Leisure wants to change the world of swim spas and we believe we have the people and products to do it
."
GOLLNICK
, who has owned and used competitive swim spas in the past, said she is glad there is finally a product that will challenge elite athletes during their swim training. Swimmers can pick their workout number (between 50 and 999) and get a consistent workout every time.