Premium Leisure LLC, has announced in April 2009 it had acquired a substantial portion of the assets and intellectual property of Tampa, Florida-based Living Water Products/Tatum Manufacturing Inc. via a purchase agreement with Jack Layfield of Grimsby, Ontario, Canada-based Sunrise Spas.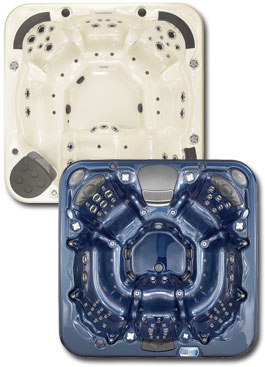 Gulf Coast & Pilates H2O lines
Some of the significant purchases include the operating assets that produced the popular hot tub brands
Gulf Coast Spas
,
Pilates H20 Spas
,
Cool Nights Spas
and
Garden Leisure Lustre Series Spas
.
Premium Leisure
will manufacture the former
Gulf Coast
line under a new, proprietary brand name and keep the
Pilates H20
brand that was distributed through
Costco Wholesale
for the past three years.
In addition, the core members of the team that launched the aesthetically vibrant
Gulf Coast
and
Pilates H20
lines have joined
Premium Leisure
. This group includes
Victor KAYKOV
(engineering),
Brad GLOVER
(design),
Mark SCHURR
(sales) and
Eric VICIAN
(brand manager/marketing), as well as other operational support staff.
Premium Leisure LLC
also announced that in a separate move, unrelated to the acquisition, it has hired
Steven O'SHEA
as Vice President of Sales and Marketing.
O'SHEA
has been in the hot tub industry for more than 20 years, including eight years as the National Sales Manager for Watkins Manufacturing Inc., a division of
MASCO Corporation.
Throughout his career,
O'SHEA
has been responsible for aggressive independent retail dealer acquisition and sales programs.
"
These are aggressive moves that we hope will inject positive momentum into Premium Leisure
," said PL President
Brian WILEY
. "
We are committed to building on more than 30 years of industry experience, and with these fresh products, people and pending programs, we are poised to launch some freshly-designed, aggressively-priced hot tub models into the marketplace
."