PRESS RELEASEThe 2009 Int'l Pool | Spa | Patio Expo has unveiled an all-new, redesigned website that offers a bold new look, simplified navigation and improved usability that will help users access information more quickly and easily.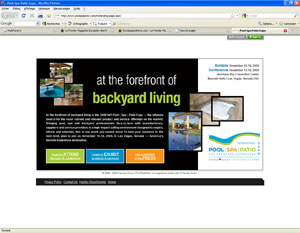 Located at
www.PoolSpaPatio.com
, the new look and additional features were designed to provide centralized content, making navigation fast and easy for attendees and exhibitors.
"
Int'l Pool | Spa | Patio Expo continually strives to provide the best to our attendees and exhibitors
," said
Donna BELLANTONE
, Director of the Expo. "
The website redesign enables users to find information quickly and easily, ultimately bringing even more value to their show experience
."
The ramped up website enhances user-friendly navigation by featuring three distinct sections designed especially for the type of target user — attendees, exhibitors or press — with content based specifically on their needs.
Within each section is a wealth of information categorized under menu tabs located at the top of the page. Each tab contains a drop-down menu of related pages that are only visible when the user's cursor hovers over the tab.
To help highlight important information, modules are included on almost every page. Modules are custom content areas that change frequently depending on the subject matter.
"
The new website offers incredible information about the show in a manner that is clean and crisp
," said
Bill WEBER
, President and CEO of APSP, the show's official sponsor. "I encourage all of our members to use the website frequently."
ConnectionPOINT
One of the highlights of the new redesigned website is the addition of the attendee and exhibitor portal, ConnectionPOINT. Serving as the event headquarters, ConnectionPOINT is a private, personal section that, is accessible only with a customized e-code.
Attendees will access ConnectionPOINT to print conference handouts and certificates, participate in conference blogs, review PoolSpaPatioCONNECT matches, create a detailed show agenda, search show specials, obtain a Visa letter, read industry news and much more.
Within the exhibitor version of ConnectionPOINT, exhibitors will register for badges, complete the Program & Event Guide information, access the Exhibitor Service Manual, review PoolSpaPatioCONNECT matches, review booth invoices, review status of sponsorships, manage exhibitor appointed contractors, obtain a Visa letter, review past exhibit history and much more.
After registering for the show, e-codes will be sent to attendees approximately 2 months prior to the show. Exhibitors will receive e-codes in their booth confirmation packets.
"
ConnectionPOINT is a one-stop, online resource for attendees and exhibitors to manage their show experience
," said
BELLANTONE
. "
Instead of having to search multiple web pages, ConnectionPOINT brings all the key information into one centralized site
."
The 2009 International Pool | Spa | Patio Expo will be held November 16-18 in the Bayside Halls at the Mandalay Bay Convention Center in Las Vegas, Nevada USA, with the educational conference taking place November 13-18.