High performances and silence by filtering the pool with the XFlow Filter Pump
Inverter and InverSilence Technologies serving the pool
Aquagem's first Inverter pool pump, XFlow, was launched on the market by the end of 2019. In addition to the proven performance of the Inverter Technology, powered by InverSilence Technology, this filter pump operates with a sound pressure at 38.9 dB(A) (at a running capacity of 40%) only at one meter, for a 1.1 kW model. It is among the quietest pool filtration pumps of the market.
XFlow is equipped with a soft start and ramps up to 100% capacity smoothly to meet the demand for proper filtration, in a super quiet running.
Thanks to the inverter technology, the on-off operation of motor and inverter driver are working in a very comfortable condition, not only this ensures a better filtration performance, but also the life expectancy can be greatly extended due to ease on load pressure.

Double energy saving for the user
XFlow can be adjusted from 40%-100% capacity to meet different demands and needs of filtration in the pool. Not only can it significantly reduce noise level at full capacity, but also it can save up to 70% of energy consumption, compared to conventional pumps (including variable speed pumps). The amount of energy saved ensures a payback of 1.5 years.
Intuitive touch screen with power consumption reading
With a trendy full touch screen, XFlow makes operation easy. No more trouble caused by a big finger on push buttons on a small pad, no more wrong settings. By just one-click, one can start backwash cycle, upon completion of backwash, it shall exit automatically and go back to previous running state.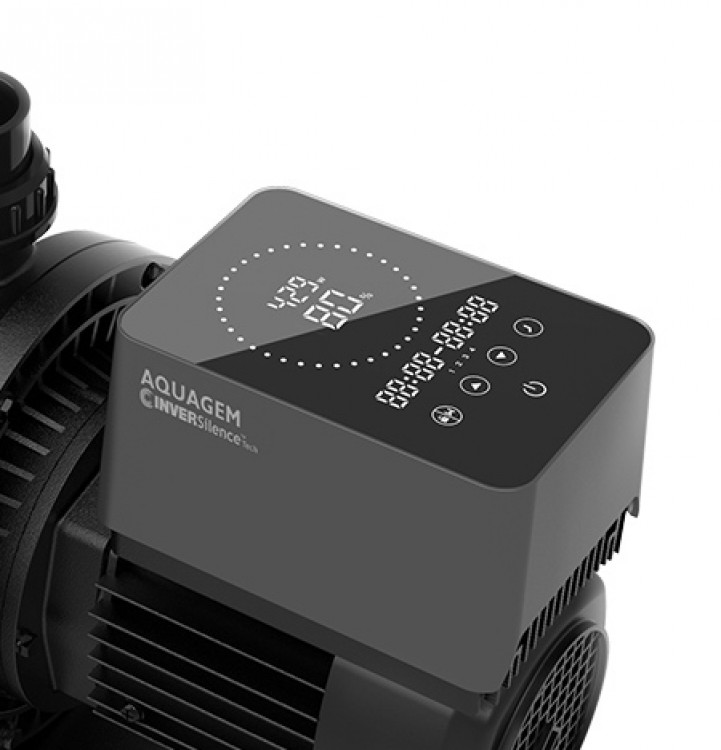 Intuitive touch screen
About Aquagem
Led by a team of more than 20 years' experience in Inverter electronic control system, Aquagem has been dedicating to developing a low noise solution for pool pumps since 2017. It was this year that the company launched its first full touch screen frequency Inverter for single speed pumps, which had a great success.