A new range of LED lighting
For the 2019 season, Propulsion Systems, house producing the DURAHeat(TM) heat pumps and DURAVision(TM) underwater LED lighting, is introducing, alongside the MOONLIGHT and ADAGIO PRO, a new range of LED lighting : the brand new SPECTRA.
The underwater LED lamps, available in 50, 100 and 170 mm external diameters, are compatible with the existing faceplates and wall lead-throughs. The SPECTRA can therefore be personalised to the end-customer's wishes and it suits every type of swimming pool.
The SPECTRA also features the Quickconnect(TM) connection as on the ADAGIO PRO and has gained an updated 'Magic Clip Nut' as standard.
The 170 mm version is suitable for PAR56 retrofit installation and comes with the necessary installation accessories.
The brand new SPECTRA lamp features on/off control and can be operated with all possible DURALink(TM) control units. This LED lamp is available in RGB and Tunable White (permanently settable to blue, cold white, neutral white or warm white tint).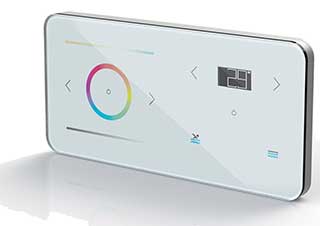 LinkTouch(TM)