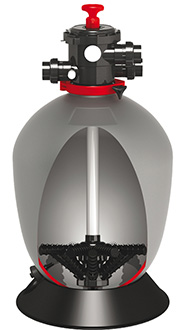 Taking advantage of a 90,000m² factory based on a continuous improvement process, EMAUX is committed to concepts such as sustainability, respect of the environment, and creating user-friendly devices.
It is in this spirit that the company conceived the ideas of volumetric filtration and user-friendly devices in general.
Volumetric filtration uses not only the upper surface of the filtration media but also the entire volume; as a 3D filtration.
Its advantages are to provide a crystal water, savings in backwash water and other benefits.
The Volumetric Filter is the beginning of a new filtration era with its unique shape and design, made in HDPE for high resistance (4-bar working pressure), a dual-arm collector system at the bottom, and a multiport valve design for easy maintenance.
Moreover, one of the main features of the new SSCone Salt Chlorinator for dosing and pH regulation from EMAUX is its user-friendliness.
The cockpit design of the user interface makes programming very easy and congenial. It is built in anodized aluminium, giving it an original touch and a very high heat shrink ratio.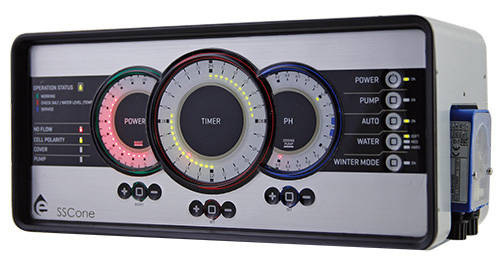 Seen on PISCINE GLOBAL 2016 exhibition in LYON