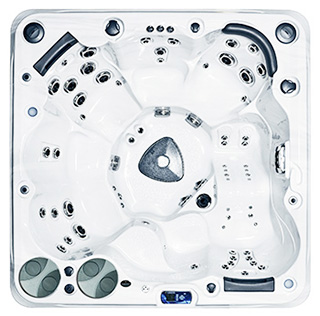 The H695 is the latest model in the Infinity range created by HYDROPOOL.
This spa that accommodates 6, offers all the comforts of the most advanced spas in terms of hydrotherapy.
Its generous proportions (213 x 213 cm) with an "S-shaped" bunk and 5 ergonomic seats with variable immersion depths, and effective therapeutic massages, thanks to its Intelligent Massage feature, provide optimum comfort.
To control all spa functions, its latest version control board with colour display offers automatic programming, an integrated stereo management system, and Smartphone connection via Bluetooth.
The water is treated by the exclusive and patented new generation self-cleaning Hydroclean system, a system that not only vacuums deposits at the bottom of the tub but also treats the surface of the water.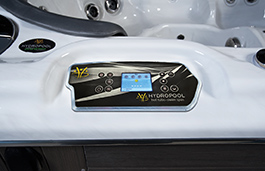 The low energy consumption of the H695 is based, like the entire Infinity range, on the use of low-consumption motors, optimized hydraulics, and patented ThermoLoc insulation.
The range is also part of the Hydropool Evergreen approach, committed to using "green" technologies, especially by using pumps that are more reliable and efficient.