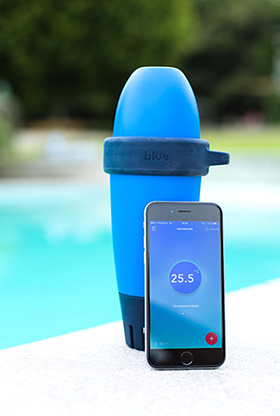 Fluidra has acquired an 80% shareholding of the Belgium start-up Riiot Labs, the creator of an innovative piece of remote control technology for pool maintenance from any mobile device.
This operation has built on the relationship that started a few months ago with a distribution agreement for France, Spain and Benelux, and that in the short-term has been marked by the success of this smart device, marketed as blue by Riiot by Fluidra, and that is preceded by various awards in the sector.
blue by Riiot is a connected and intelligent object with the shape of a float. It facilitates the pools maintenance and helps to keep them clean. It remotely analyses in real time all the data considered necessary to the proper functioning of the pools. The intelligent object communicates with the Bluetooth technology and the Sigfox network, a telecom operator that provides a long-range and energy-efficient radio connection.
It constantly measures and registers the temperature, the pH, the chlorine rate and the salinity level of the water while providing personalized solutions and advices through a step-by-step guide available on a free application. This way, a number of problems concerning the water quality can be avoided for the supplier's comfort as well as the owner's.
Introduced at Global Piscine show 2016 in Lyon, this smart and connected pool monitor has received the prestigious 2017 CES Innovation Award in Las Vegas in the "Smart Home" category !

This development came about just a few days after the announcement of the purchase of the Italian firm of designer above-ground pools, Laghetto. Both of these operations fall within the framework of the company's Strategic Plan to create value and innovation.
Fluidra's executive president, Eloi Planes, expressed his satisfaction about this recently sealed deal with a forward-looking vision: "We heed user demand, and this is an investment in innovation, a clear commitment to the Internet of Pools that will round off our wide range of products for connectivity between pools, users, dealers and Fluidra."