A global pioneer in introducing Inverter® technology to the pool heat pump market, PROCOPI has reached a new milestone in the field of swimming pool heating. All its professional and Proswell ranges are now switching entirely to Inverter technology.
An advanced technology that enables the heat pump to automatically and autonomously change the operating speeds of its fan and compressor for optimal performance, more savings, and reduced noise for more user comfort.
Following its partnership with Mitsubishi, Procopi has developed the Climexel Mitsubishi Power Inverter (MPI) and Climexel Mitsubishi Zubadan Inverter (MZI) heat pumps.
More than 100 million units of the outdoor unit (air conditioning) of these new heat pumps have been sold worldwide.
The Climexel MPI and MZI heat pumps, true 4-season heat pumps, are capable of operating at an outdoor temperature of -15 ° C and are among the most reliable and efficient products in the world market.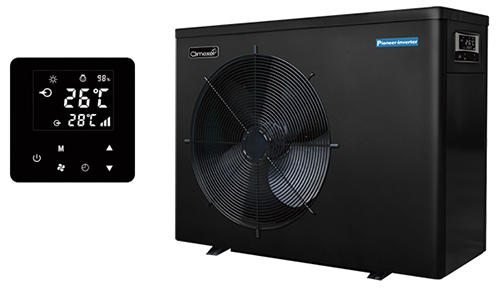 Climexel Pioneer Inverter heat pump and digital controller
This year, several ranges of heat pumps for swimming pools have also been added to fill out the PROCOPI offer, for professionals in particular, with the new Climexel Pioneer Inverter and Proswell Comfortline Inverter.
Equipped with Full Inverter® technology, both have compressors with outputs between 25 and 100% of their capacity.

The Climexel Pioneer Inverter range offers a wide choice of capacities that can heat pools with volumes ranging from 18 to 95m3.
The average COP it is able to achieve is 9 with Air/26° C, Water/26° C and 80% humidity.

The models of the Proswell Comfortline Inverter range offer outputs capable of heating swimming pools with volumes from 12 to 40 m3.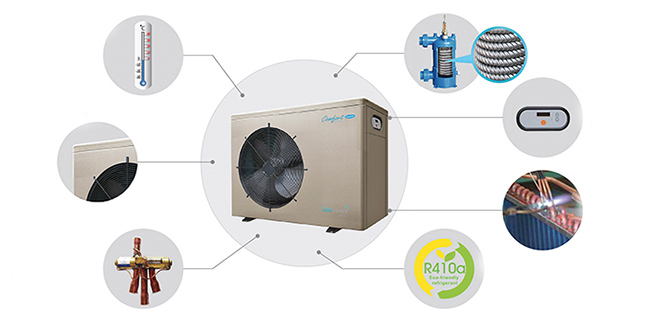 ProSwell Comfortline Inverter heat pump
Both heat pumps incorporate a titanium heat exchanger, high and low pressure sensors, flow safety switch and defrosting by cycle reversal.

They are controlled by digital regulators, ensuring optimal protection of the heat pump and precise control of pool temperature.

These heat pumps are very easy to install and maintain.