SWIMMING POOL AND SPA NEWS

News about the European standards
To support their members and the wider wet leisure industry, BISHTA and SPATA work together to ensure that they are represented across Europe. Reporting on the latest updates on European standards,...

Piscine Global...
The fourth edition of Piscine Global Asia was held from 5-6 April 2017 at the Marina Bay Sands,...

Designate a Water...
Water Safety USA, a consortium of 14 national governmental and non-governmental organizations,...
All news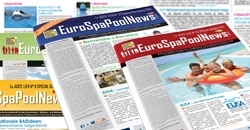 All 2017 Special Editions of Le JUSTE LIEN!
Several editions of Le JUSTE LIEN, including a brand new one, are waiting for you in 2017 to provide you with regular information on the Pool and... All hot topics