SWIMMING POOL AND SPA NEWS
A New Extrusion Line at Ocea International
For over 20 years Ocea has been recognised for the quality of its customized systems and its wide range of colours. For over 15 years now the company has been extruding its PVC and Polycarbonate...

Myrtha Pools: See...
This summer Budapest, one of the most charming cities along the Danube River, will be the swimming...

Basic study on...
Andalusia, Catalonia and Valencia are the autonomous communities with the largest number of...
All news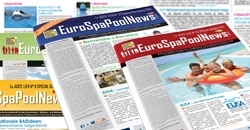 All 2017 Special Editions of Le JUSTE LIEN!
Several editions of Le JUSTE LIEN, including a brand new one, are waiting for you in 2017 to provide you with regular information on the Pool and... All hot topics