SWIMMING POOL AND SPA NEWS

Information to suppliers and customers of the Procopi Group
We are delighted to announce that NewComex, which controls 100% of the Procopi Group, has been sold on 18th September 2017 to the Austrian company FIBA, based in Mondsee.

DLW delifol will be...
DLW delifol is part of DLW Flooring GmbH, a floor-covering manufacturer since 1882. Its head...
Barcelona and...
EuroSpaPoolNews is launching the new editions of autumn : Le JUSTE LIEN Special BARCELONA (in...
All news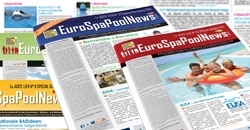 All 2017 Special Editions of Le JUSTE LIEN!
Several editions of Le JUSTE LIEN, including a brand new one, are waiting for you in 2017 to provide you with regular information on the Pool and... All hot topics