One of Hayward's flagship products in the pool salt chlorination field is AquaRite®+, which is recommended for pools of 60 to 150 m3 (4 models available). In addition to water treatment and parameter regulation, this device is used to control remote pool equipment from a single control box: filter pump, heat pump, lighting, etc.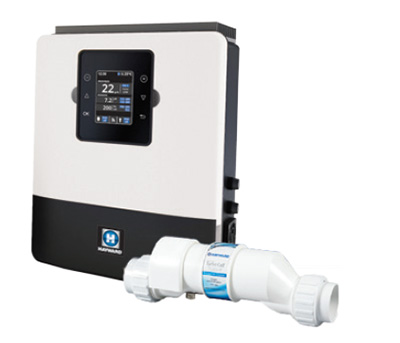 AquaRite®+
The ultimate in comfort, the Poolwatch application allows users to control their equipment from their smartphone or tablet, thanks to the Wifi module (optional)! Salt chlorination is provided by T-CELLs ("T" for "Turbo") that boost chlorine production and have a long service life. They are cleaned by polarity reversal. The ORP kit, the free chlorine measuring probe and the detachable control box are also available options. For pools fitted with a cover, the level of chlorine production can be set from 0 to 100 %, depending on whether the roll-up cover is open, closed or partly open or closed. This salt chlorinator is the group's trademark!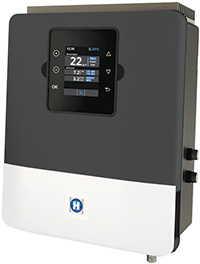 AquaRite® LT

For its part, the AquaRite® LT model is fitted with new options, including the ORP (Redox) control that has been added to the salt concentration measurement, closed roll-up cover detection and pH kit options. An optional ORP kit is now available to regulate chlorine production.