The treatment of water of swimming pools receiving the public has to meet strict regulatory constraints, forcing the pools of hotels or campsites to very often resort to using chlorine packaged in liquid, solid or gaseous form. Very strong, this disinfectant has the advantage of eliminating all bacteria present in the pool. However, it is potentially dangerous for the health of swimmers and operations staff, and is therefore more and more criticised by communities.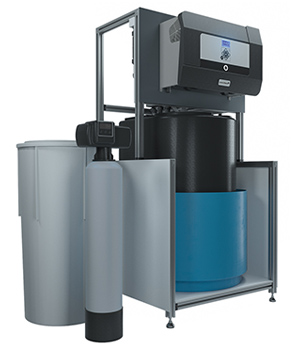 It is from this perspective that Pure Chlore®, the on-site chlorine generator, was derived from an alternative technology, salt electrolysis.
Its objective: to offer public swimming pools the same ease of use and maintenance and the same practicality and low cost, as a salt chlorinator for a residential pool.

The principle of this chlorine generator is to produce chlorine in the technical room on the premises, using salt electrolysis. The chlorine (sodium hypochlorite) thus generated is stored in a holding tank and then injected into the pool, as and when required, thanks to a metering pump regulated and controlled automatically. The pump maintains the chlorine in the pool at an optimal level.
The advantages of this process are numerous and acknowledged: this system works automatically, and because it uses only salt, significantly reduces maintenance operations and handling of chemicals. In case of a high number of users and/or difficult weather conditions, its large storage tank compensates for the increased need in chlorine, a fact that is highly appreciated by public pool managers. Lastly, this process is sought after for its low operating costs, the quality of bathing water produced and salt-free water.
This year, Pure Chlore® acquired a complete management interface, to remotely control the proper functioning of the installation in real time. The system works without the need of an internet connection, and sends SMS messages to alert all those in charge in real time (pool managers, maintenance technicians, hotel managers, etc.).

Pure Chlore® has already impressed many communities wishing to combine efficiency, safety and comfort.
User experience feedbacks has been very positive because this system meets their expectations: chlorination for the 21st century, both effective and respectful of the health of swimmers, lifeguards, maintenance technicians and the environment in general.