POOL TECHNOLOGIE proposes to discover its flagship and other new products dedicated to salt chlorinators, as well as to dosing and regulating systems for residential and public swimming pools.
POOLSQUAD PRO LS, its new generation salt chlorinator, among its eco-innovations, is particularly recommended for pools prone to corrosion.
It is equipped with Low Salt technology, reducing salt requirements by 3, for optimal disinfection from 1.5 g/l of salt.
More environmentally friendly, this version has also been designed with an approach that combats programmed obsolescence.
| | |
| --- | --- |
| POOLSQUADPRO LS | DOSIPOOL |
The POOLSQUAD Ampéro and the DOSIPOOL Ampéro are two solutions from its PREMIUM range for chlorine regulation using an amperometric sensor. With high precision, this sensor can measure the free chlorine contained in the pool in ppm. The unit then automatically adjusts the required chlorine content according to the set point.
The production of disinfectant is thus automatically modulated according to the demand. For private individuals, this professional technology represents an undeniable ease of maintenance.

POOL TECHNOLOGIE is increasingly expanding its know-how in on-site salt chlorinators, dosing and chlorination for public and collective swimming pools. The company is particularly keen to meet the demands of a rapidly changing German water treatment market. A market composed of a clientele highly conscious about the environment, the health of users and also the staff of hotels, campsites, spas, etc.
| | |
| --- | --- |
| Professional Dosing | Professional Salt |
Among the flagship products of this range, the Professional Salt, a salt chlorinator suitable for large volumes (production of chlorine up to 800 g/l), meets these specific requirements perfectly. Besides water disinfection, it ensures partial or total destruction of chloramines, which are unsafe for health.

The Professional range also includes its Professional Dosing, which ensures pH and chlorine regulation by means of an automatic or proportional system, a pH sensor and a high-quality amperometric sensor.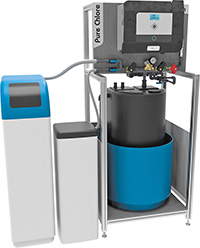 PURE CHLORE
Last but not least, this range was enhanced with a chlorine generator, the PURE CHLORE, which brings an «off-line» solution that produces chlorine on site.
In this manner, it eliminates the risks involved with hazardous transport and storage of chlorine and prevents the risks of handling by maintenance personnel.
Very efficient and simple, recognized by professionals as a reliable alternative to chlorine tablets, the system produces sodium hypochlorite in a storage tank.
The necessary dose is then automatically injected into the pool without manual intervention, eliminating the chloramines present in the water while respecting the health of swimmers.