MARINAL is a manufacturer-distributor of integrated structural formwork.
The patented Marinal construction system, drawn from structural engineering, makes it possible to build monobloc swimming pools and ponds.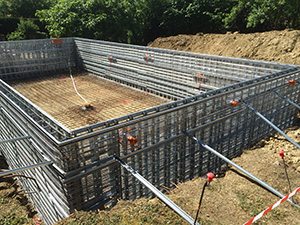 The formwork consists of two filtering screens in galvanised steel, attached by connectors, which can be folded down.
The formwork can thus be packed flat for delivery on site, so that only one pallet is required.
The formwork can be lifted manually, and is easily assembled using a screw gun.
Once they are assembled, the pool is cast in a single operation using a concrete pump, both walls and floor.
The result is a monolithic structure, dimensionally stable, crack resistant, even in difficult terrain. The parts to be sealed are also embedded in the concrete.
The assembly and casting of a Marinal pool measuring 8 x 4 m can be completed in 1 day.

The structure is compatible with all types of coatings: silicon marble, tiles, mosaic, reinforced membrane, liner, waxed concrete, etc.

Delivery in France and abroad.


MARINAL will be present at PISCINE GLOBAL 2016 in Lyon
STAND 4D18