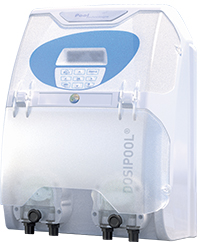 Dosipool
The Premium range from POOL TECHNOLOGIE utilises intelligent technology, offering optimal user comfort, while ensuring effective disinfection.
Its innovative design incorporates advanced features and the possibility to evolve by updates of its software.
The range consists of two devices with integrated amperometric sensors that regulate chlorine levels: the POOLSQUAD Ampéro and DOSIPOOL Ampéro.
This sensor, which has a high degree of accuracy, is generally used for public pools. This professional quality is thus made accessible to private pool owners. It allows them to directly measure and regulate the level of free chlorine.
The DOSIPOOL Ampéro is a fully automatic device. It allows the user to treat the water by dosages of chlorine for optimal disinfection. It is also equipped with a pH regulator that analyses water continuously and maintains the pH level at its ideal value (7 to 7.2).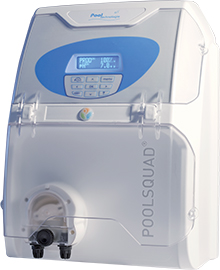 PoolSquad
The POOLSQUAD Ampéro chlorinator stays one step ahead thanks to its proprietary and patented technologies, including the "Smart Reverse". The latter automatically manages reverse polarity, depending on the hardness of the water, and does not require any time setting or configuration. This ground-breaking feature significantly extends the life of the electrolysis cell.
The technology "Smart pH" also allows intelligent regulation of pH levels: in case of failure of the pH sensor, the device switches automatically to dose dispense mode, maintaining the pH at its ideal level thanks to its recorded profile.
Last but not least, the new features in 2016: The chlorinators of the Premium range will be equipped with Mixed technology. This includes a new and more powerful cell that produces a higher dose of disinfectant. This development was made possible by electronics that are more durable. These technologies can extend the life of the cell and provide the highest quality, allowing customers to swim in a calm and stress-free environment.