The CTX Super Concentrated Range enables to add exactly the amount of product users need, helping them to make saving and use it more efficiently, especially thanks to its practical and economical dosing cap.
CTX-500C AlgaStop Power
It is a fast-acting compound that displays great properties as a bactericide, algaecide and fungicide, which therefore prevents the formation and growth of algae in pool water.
This concentrated product lasts for 13 weeks (0, 5 L) or 25 weeks (1 L).
CTX-530C AlgaStop Ultra Power
This product is an extra strong, fast-acting algaecide with micro-flocculant properties that makes it better able to prevent the appearance of algae that live suspended in the water. It is non-foaming.
This concentrated product lasts for 10 weeks (0, 5 L) or 20 weeks (1 L).
| | |
| --- | --- |
| AlgaStop Powder | AlgaStop Ultra Powder |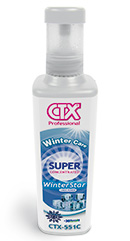 CTX-551C WinterStar Liner Power
This special concentrated winteriser is designed for liner pools, to keep the water in top conditions over the winter period, so that it can be reused in the following season without having to empty the pool.
This concentrated product protects pools of 40 to 50 m3 (0, 5 L).