CTX Professional presents a new system for disinfecting pool water: multipurpose tablets in water-soluble film.
Very efficient: only two tablets per week are required for keeping pools up to 60 m3 perfectly clean.
Thanks to their practical single dose format, anyone who has to carry out pool maintenance can now forget all about complicated dosing systems that require several disinfectants.

Each tablet is wrapped in a water-soluble film that protects it and reduces the odours given off. Furthermore, as the film dissolves in just a few minutes when it comes into contact with the water, there is no need to go to the trouble of taking the wrapping out of the water after use.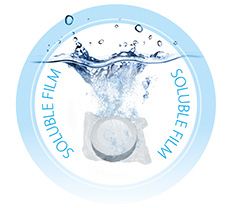 Thanks to the water-soluble film, the skin does not come into direct contact with the product, thus making its use more convenient and safer.

Finally, each CTX tablet acts as a disinfectant, algaecide, flocculant, fungicide and clarifier. This versatility not only makes maintenance jobs easier, but also translates as considerable money saving for pool owners.

| | | | | | | | |
| --- | --- | --- | --- | --- | --- | --- | --- |
| | Odourless | Safety | | 5-in-1 | | 60m3 pools | |