iCleaner 200
Besides a wide range of heat pumps and pool equipment, EPAI, the import company located near Toulouse (31), will be launching two new pool robots for 2015, the iCleaner 200 and iCleaner 200 D.

Depending on the model, these high-velocity automatic machines clean floors, walls and the waterline. Compatible with all types of pools, they navigate obstacles and steps. They are fitted with a gyroscopic anti-torsion cable system, 2 Dualdrive traction motors and a suction pump with an extremely high degree of efficiency.

Pool owners have at their disposal three automatic programmes and a manual programme that the user can modify with the help of a multi-directional remote control.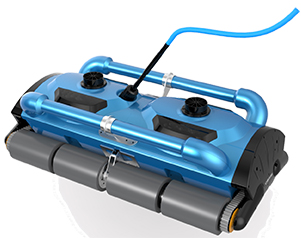 iCleaner 200D
Other features:
- Control unit built into the transport trolley.
- Easy cleaning of the filter bag by simple rinsing.
- Filter index of 70 or 45 microns.
- Suitable for pools of up to 200 m² for the iCleaner 200,
- and up to 400 m² for the iCleaner200 D.