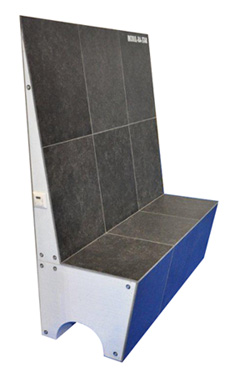 Modul is a range of square or rectangular Turkish bath designs made by LUX ELEMENTS each one featuring several versions with defined dimensions, with four ceiling possibilities and six bench options.
Today, the German manufacturer, a specialist in producing hard polystyrene foam and making products with it for the building, health and wellness markets, is now launching new benches for modular Turkish bath cabins.
The Modul-Ba-Star benches feature modern, sophisticated designs, with standard dimensions or made-to-measure.
Their back and individual armrest are also designed to the customer's specifications and are available separately, to complement a corner or end construction with a mitre cut.
This module is especially suited to being covered with large-format tiles that are very much in fashion today.
The Modul Turkish bath cabin range is delivered in full kit form.