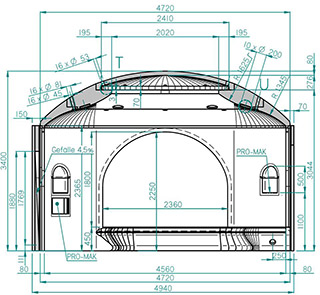 Step 1 - Manufacturing plan
Lux Elements is an experienced specialist in the production of rigid polystyrene foam and its machining into products destined for the construction, health and well-being markets.

A pioneering invention of founder Herbert Lux, "the original - the hard foam support element from LUX ELEMENTS®-ELEMENT" whose patent was registered in 1981.
What was originally only conceived as a "simple" separation and construction panel has developed into a multifaceted design element.
Particularly with expanded polystyrene (EPS), varying shapes can be cut directly out of large blocks.

Step 2 - Assembly test at the factory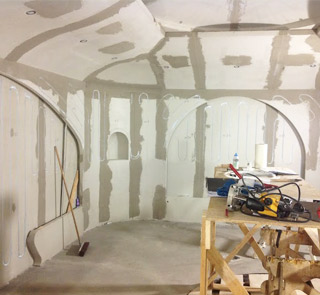 Step 3 - Assembly of the structure,
jonctions treatment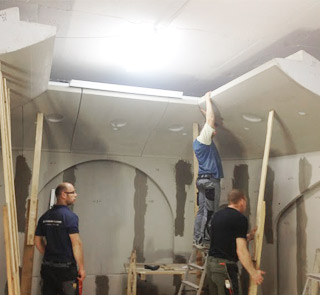 Step 4 - Assembly of the roof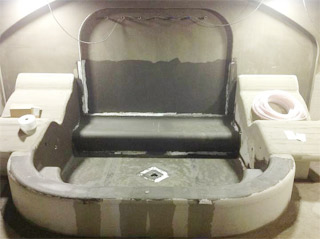 Step 5 - Sealing of the pond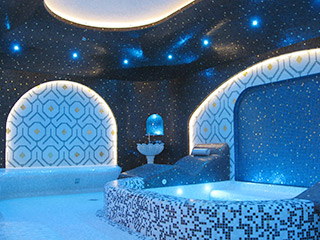 Step 6 - Tiled site
Benefits for the entrepreneur:

• high stability thanks to an incorporated fibreglass fabric,

• rot-proof and waterproof material,

• lightweight, easily transportable and can be cut without the use of special tools,

• prefabrication allows for a clean and fast installation without extra working or adjustments on site,

• ultimately much cheaper than "traditional" materials.

LUX ELEMENTS has focused on the following areas:

Wall coverings, floor structures, construction of bathrooms and individual and communal well-being facilities (showers, hammams, etc.).

The two production sites in Leverkusen, Germany and Ungersheim in eastern France have been certified according to DIN EN ISO 9001:2008.

According to Christopher Rodriguez, the company's Sales Manager:

"The fundamental idea of LUX ELEMENTS lies in the ultra-simplification of the realisation of all types of project, as complex as they may be. Whether it's a simple "Italian"-style shower or a Hammam cabin, the proposed material allows for rapid, clean and reliable installation that is resistant to any environmental factors (water, steam, crushing, shocks, etc.). For work requiring assembly, parts are delivered numbered and with a construction guide: the chance for error is reduced to 0, just like the difficulty of the work itself!

Our systems - ready to be tiled - offer unlimited design freedom, including the choice of the finishing coating; truly made-to-measure to a high specification.

We produce everything required for a well-being centre, both for individuals and professionals (hotels, spas, relaxation centres, etc.) hammams, experience showers, ergonomic seating, foot bath, spa, massage table, resting seat, etc.

Today, the most prestigious hotel establishments in the world rely on our expertise. I invite you to take a look www.luxelements.com."

"Below we present the realisation of a beautiful and luxurious 50m² made-to-measure private hammam in Rome.

We carried out its manufacture according to the customer's specifications (in other cases, we can develop the most appropriate solutions ourselves to suit the customer).

On this atypical site, as with any "standard" site, the construction elements undergo a test assemblage at the factory in order to make final inspections prior to shipment. Thanks to this total prefabrication, the 50m² site was completed from A to Z in 25 days (3 days to assemble (less than 200 elements) the structure, 3 for sealing, 2 days for plumbing and electricity, and 17 to bond the ceramics and its epoxy grouting.
The assembly team consisted of 3 people: 1 plasterer, 1 carpenter and 1 mason. None of them had ever worked with this material, and they were therefore all completely new to it. The team benefited from the in situ technical support from our international site-monitoring cell. This actually provides daily training and assistance for the assembly teams.
As a side note, our training centre in Leverkusen annually trains more than 500 installers."