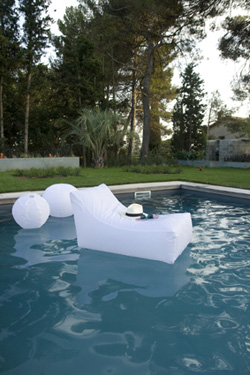 Drawing on wide experience in LOON lighting and WINK inflatable floating loungers, LINK FACTORIES (RMJ International) will be launching its LOON AIR products at the Lyon Pool Trade Fair.
This wide range of inflatable light diffusers are resistant to shocks, UV and chlorinated water, and are protected by a 450-denier, machine washable cover.
A LOON lighting unit is placed inside the diffuser for guaranteed soft lighting results either indoors, outdoors or on the water!
The new 22 to 150 cm diameter Balloon Loon Air range, the new 50 to 80 cm diameter Platoon Loon Air series, the new 45-cm Kube Loon Air and the new Loon Air bench complete the wide range of fun pool accessories provided by LINK.
New WINK cushions and loungers will also be available soon. Watertight and inflatable, they are protected by an ultra-resistant 600-denier, fade-proof cover that is UV stable and machine washable.
Coming soon: the WINK Island round cushion, the WINK Nap lounger and the WINK Ch'Air armchair!

PISCINE 2012 - STAND 4D18