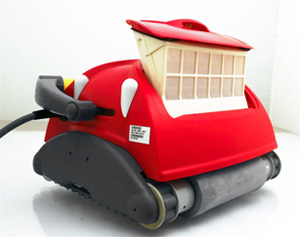 Powerful and efficient, the FUSION X robot thoroughly cleans the bottom, walls and edges of the pool in 3 hours, no matter what the shape or size of the pool.
It climbs the walls, scrubs and cleans the waterline with its PVA brushes that are compatible with all pool surfaces. Independent from the pool's filtration, its filter chamber empties after use and can be cleaned easily by rinsing with water.
It offers a suction flow rate of 16 m3 / h, with a filtration grade of 2 microns.
This robot, which is economical because it consumes only 150 Watts, also works under pool covers or slats.
It comes complete with a transformer, a reusable filter bag and a floating power cable of 18 mt. The transport trolley comes as an option. Distributed by RMJ International, it is covered by a 2-year guarantee.